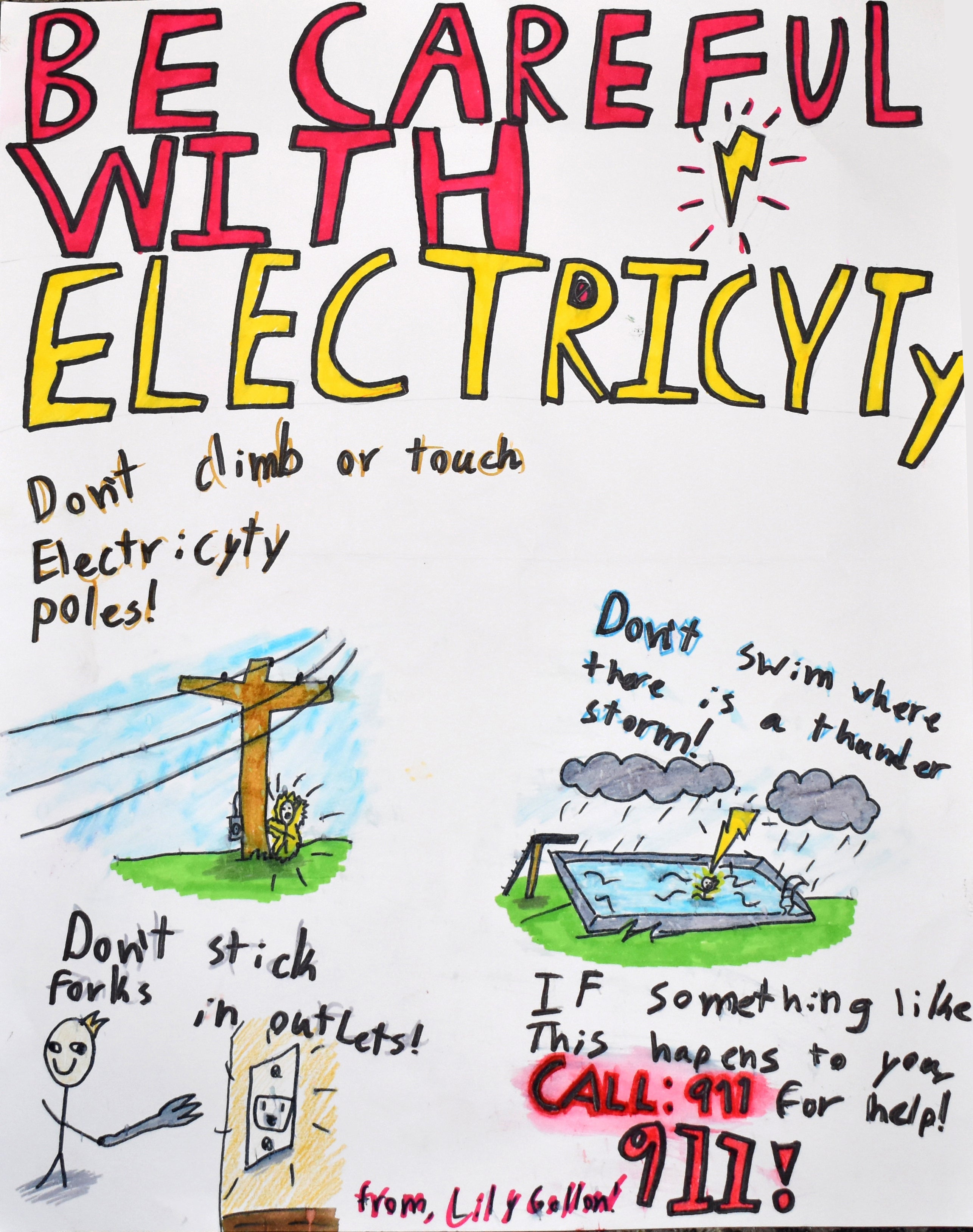 "Oh my gosh I won."
That's what Lily Gollon thought to herself when she found out that she had won the WECA statewide Electrical Safety Poster Contest.
"I never really won any art contests before," Gollon said.
Lily's mom, Melissa, confirmed that Lily was "super excited" after finding out she had won.
Gollon, a student at Rosholt Elementary School, entered the poster contest after Central Wisconsin Electric Cooperative (CWEC) informed the local school districts within its service area about the poster contest for third-graders. Rosholt Elementary School was one of the schools contacted.
"I made it a requirement for both of my third-grade classes that they would make the poster and then it was up to the parents to send back the permission slips for who actually got to participate in the contest," said Natalie Ockwig, art teacher for the Rosholt School District.
Ockwig added that she talked to both classes about poster design and composition.
Gollon said she came up with the ideas for her poster after watching videos in class about the importance of being safe around electricity.
As one would expect, Gollon loves drawing. Her mom said she watches YouTube videos about drawing, and is drawing all the time. One of her favorite YouTube channels to watch is Moriah Elizabeth, who hosts videos about creating different pieces of art.
"She makes a lot of different types of art," Melissa Gollon said about Lily. "She knows how to do many things. She's musically inclined. She has a wonderful imagination. She's a very gifted and well-rounded kid."
Ockwig concurred that Lily Gollon is a talented artist, and wasn't surprised to hear she won the local competition of the poster contest.
"When I found out she won the state competition I was super excited for her," Ockwig said, adding, "She's a pretty talented child. I kind of thought that she might have a good shot with her drawing ability."
For her efforts, Gollon won a $25 check from CWEC for winning the local portion of the poster contest, as well as a $25 gift card and new Chromebook from Wisconsin Electric Cooperative Association.
Melissa Gollon said Lily has been using one of her grandma's devices and doing different drawings with a stylus program, so she was excited to win a new Chromebook.
"I've heard that the Chromebook is supposed to be top of the line, so we're really excited," said Melissa Gollon. "It's been kind of a toss-up figuring out what would be a good device for her, and is inclined with her abilities. But it also has the proper parental protections. It's supposed to be a very secure system to use. We're very fortunate."
She added, "The Rosholt school has been wonderful and they've done everything they can to boost her and work with her."