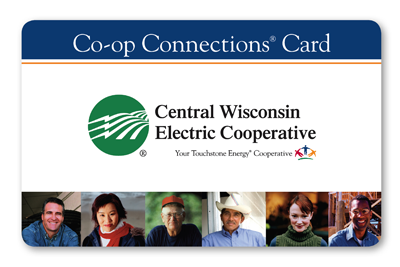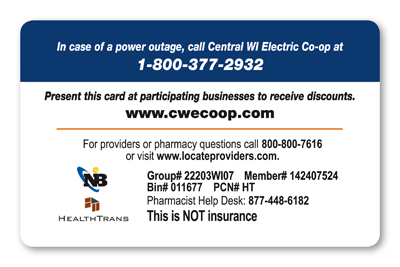 As a member you can receive discounts on products and services from participating local and national businesses. 
The Co-op Connections member benefit program is absolutely free.
Present your Co-op Connections Card at the following businesses when shopping. To see what their discount offer is click on the Co-op Connections card on our home page and search by zip code.
Touchstone Energy and the Co-op Connections program is a national program, so before traveling, search by zip code to see if there are any local businesses in the area participating in the Co-op Connections Program.  
Ambrosia Pub & Grill, LLC – Amherst
10% off all pizza purchases
Artha Sustainable Living Center B & B – Amherst
Birnamwood Tile & Marble, Inc – Birnamwood
5% discount on all materials
Budsberg Septic Service, LLC – Rosholt
$10.00 off regular charge
CAP (Christian Association with Primetimers)– Iola
$20-1 yr, $35-2yrs, $45-3 yrs  Spouse joins free
Central Wisconsin Electric Cooperative-Rosholt
Load Management programs, conservation rewards
     Call 1-800-377-2932 or visit www.cwecoop.com
Community Eyecare Center, S.C. - Iola
20% off purchase of complete pair of glasses or sunglasses; no insurance or other discount apply
Hatley Hardware & Rental -Hatley
Iola Sentry Foods – Iola
5% discount on purchases of $50 or more-Thursdays Only
Iola Pines Campground – Iola
10% off your total bill-Iola Old Car Show dates excluded
Maple Hills Golf Course and Restaurant, Inc – Wittenberg
2 for 1 golf with cart purchase

FREE appetizer with purchase of 2 dinners - Thurs-Sat
Oswald Counseling Associates, Inc. – Plover
Additional 5% discount for payment made at time of service
Silver Lake Lanes – Scandinavia
Buy one hamburger and french fry get one free

Buy one game of bowling and get one free
Smart Move Realty, LLC – Rosholt Only
$150 off commission at time of closing
Stevens Point Fairfield Inn, Stevens Point
The Pool People, Stevens Point
10% discount on all pool & spa chemical purchases
The Store Convenience Store – all 21 convenience store locations
4 cents off per gallon of gasoline-not valid with any other coupon or offer-one offer per guest per day

20 oz. coffee for 99 cents-not valid with any other coupon or offer-one offer per guest per day
Tomorrow River Floral n Wedding Design Studio – Amherst
10% off wedding package order of $500 or more-free on site consultations
Wild West Campground & Corral – Amherst
10% off camping and horseback riding
Wilderness Crossing Travel Center – Wittenberg
2 cents off per gallon on gasoline-cannot be used with other fuel discounts
Woodstock Hardwood Flooring – Birnamwood
3% product discount (discount cannot be applied to installation)
Young Impressions, Inc-Iola
10% discount for each additional child enrolled from the same family-taken off older child's rate-apply to full-time enrollment
National Savings Discounts
Co-ops can link to connections.coop, a national website with a roster of participating businesses, which includes local businesses as well as national corporations - such as rental car companies and hotels and retailers.
Healthy Savings
Touchstone Energy® Cooperatives' Co-op Connections® Program helps you save more and live healthier every day! Our highly successful prescription discount offer is now joined by discounts on dental, vision, hearing, lab work & imaging and chiropractor visits. Best of all, you get all these great benefits for FREE!
To locate providers that participate in the Healthy Savings program, call 1-800-800-7616 or visit www.healthysavings.coop. Be sure to have your Co-op Connections card handy.