APPLICATION & AGREEMENT FOR MEMBERSHIP AND ELECTRIC SERVICE
Whether you're building a new home, adding electricity to your recreational lot or developing your business property, you'll learn more about what to expect by following our new construction guide.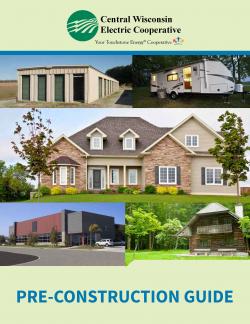 If you have additional questions after reading this guide, please call us.
Mail the completed forms to: Central Wisconsin Electric Cooperative, PO Box 100, Rosholt, WI  54473 or drop if off at our office.
Email: cwec@cwecoop.com
Reminder: Items to be returned
Application & Agreement for Membership and Electric Service
Engineering Fee
Pre-Construction Checklist
Site Plan Sketch
After the job is completed, please fill out and submit the New Construction Member Survey
New Construction Survey - Submit Online
New Construction Survey - Printable