Overview:
Central Wisconsin Electric Cooperative (CWEC) values education and training and understands that classrooms may have limited funding to pursue the projects needed to educate the young minds in our local communities. By embracing cooperative principle #5 Education, Training and Information, we are able to extend our resources to support STEAM (Science, Technology, Engineering, Art, and Math) projects and initiatives.
Guidelines:
Funding is available for public, public charter, private, and home schools in our service area for classrooms with students K-12. The classroom project must be academically focused in the areas of science, technology, engineering, art, or math. The grant may be used to purchase equipment or curriculum materials and should be part of a well-planned and integrated project or activity. Instructors may apply for a STEAM grant up to $1,000 per school district, per academic year. Home schools are allowed to receive up to $100 per home school, per academic year.
Grant Eligibility:
Public Schools – Bowler, Iola-Scandinavia, Rosholt, Tigerton, and Wittenberg-Birnamwood. Public Charter, Private, and Home Schools – Must be within the Townships CWEC serves. Click here for a listing of the eligible Townships or call our office.
Applications will be reviewed by the CWEC Operation Round Up Board at its quarterly meetings to be sure they meet the qualifications.
The deadline to apply each quarter is as follows:
January 1
April 1
July 1
October 1
Requirements:
Please ensure that all forms are filled in completely before forwarding to us. Incomplete applications will not be submitted for consideration. Applications should be submitted 4-6 weeks prior to the date of anticipated need. Applicants agree that their name, photo, and the project may be used for any marketing purposes at Central Wisconsin Electric Cooperative.
Examples of projects that would NOT be considered for funding: 
Travel expenses, field trips, guest speakers, entry fees, t-shirts or other promotional items/prizes, and meals. If you are seeking funding for a project and think that the STEAM grant might not be the right place to apply, visit our Operation Round-Up page to see if you qualify for funding.
Applications:
Click here to complete and submit the application online
If you prefer to submit a paper copy send the completed application and any other pertinent materials by mail to:
Central Wisconsin Electric Cooperative
Attention: STEAM Grant
P.O. Box 100
Rosholt, WI 54473
For more information about the program, please contact Brenda Mazemke at brenda.mazemke@cwecoop.com or (800) 377-2932.
AREA SCHOOL DISTRICTS RECEIVE $1,000 STEAM GRANTS
Area school districts in the Central Wisconsin Electric Cooperative (CWEC) service area each received $1,000 in STEAM grants to be used for projects and initiatives related to science, technology, engineering, art, and math.
The STEAM grants were introduced by CWEC in the second half of 2022 because the co-op values education and training and understands that classrooms may have limited funding to pursue the projects needed to educate students in local communities.
School districts that received the grants are as follows.
IOLA-SCANDINAVIA SCHOOL DISTRICT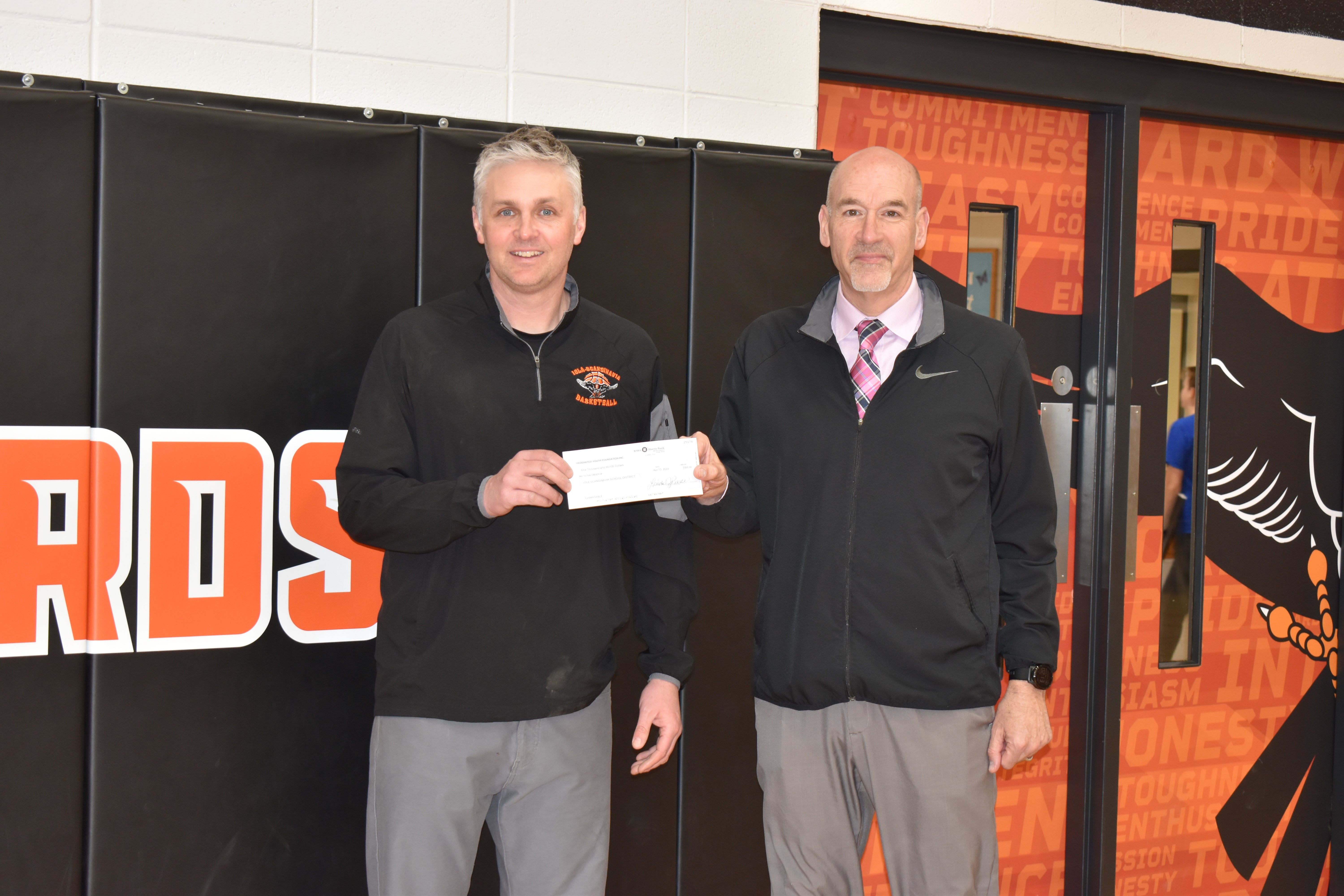 The Iola-Scandinavia School District received $1,000 for the purchase of Smraza Electronics Kits. The kits will be used for technology education.
The kits include electronic components and projects for students to complete. The components include a breadboard, power supply, LEDs, resistors, and other electrical components that can be used to design circuits.
Dave Jueds, tech ed teacher for Iola-Scandinavia High School, said the kits will be used by sophomores, juniors, and seniors who take the electricity class he teaches. The kits allow students to have hands-on opportunities with electronic circuits.
"They'll learn about electricity," Jueds said. "They'll learn about programming, about electronics and how to program electronics to talk to robots or to whatever they're programming."
Jueds said the district would not have been able to purchase the kits without the STEAM grant from CWEC, but once the district found out it would be receiving the grant, he ordered the kits, and students have already been using them. He said the students were excited to use the kits and have been engaged while using the kits.
"We're getting our hands in there trying to figure out what they're capable of doing," Jueds said. "The extra money gave me the opportunity to give everyone their own kit. Otherwise, with 18 of them at $60-$70 a kit, I wasn't going to be able to afford 18 of them. And 2-3 (students) to a kit is not nearly as impactful as everyone having their own."
He added, "Each student has their own kit and they can go through different lessens and various programming lessons that are organized with it."
Future students for Jueds' electricity class will be able to benefit from the kits, as the kits are reusable from year to year.
ROSHOLT SCHOOL DISTRICT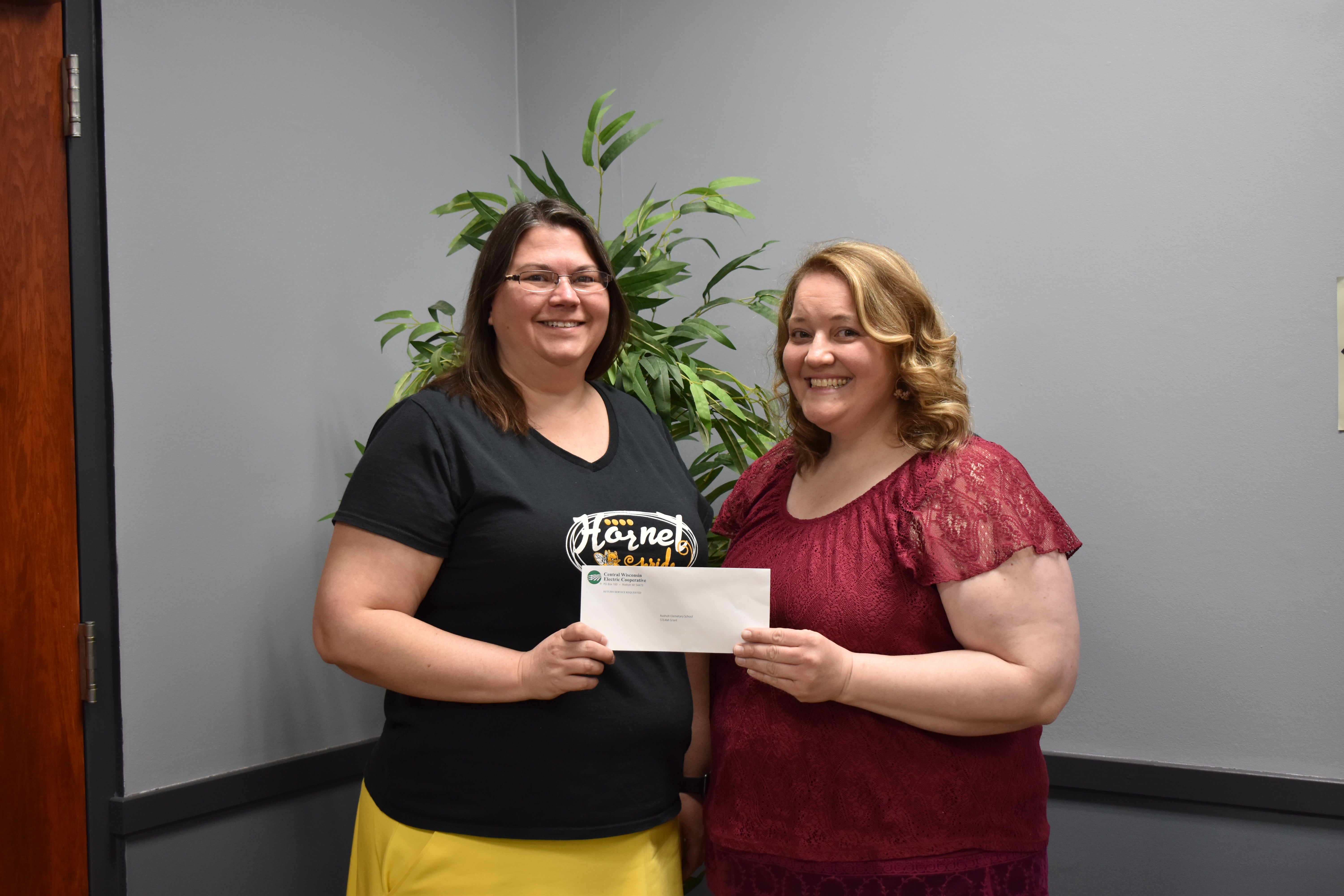 The Rosholt School District received a $1,000 STEAM grant for a Making Math Minds project, which will include professional development for teachers and the purchase of boxes of math materials for grades pre-K through 6th grade.
"When we think of math, a lot of us will think of the traditional, you sit and you get, but we're hoping that by giving more manipulatives it will help with the progression of learning," said Kimberly Habeck, 6th grade teacher in the Rosholt School District, who applied for the grant.
Mary Ann Cline, principal at Rosholt Elementary School, said the district immediately began implementing the Making Math Minds project once it found out it would be receiving the grant.
"Math fluency is really important for a good life foundation," Cline said. "Being able to understand how numbers work. Being able to go to the grocery store and see a certain percentage off. We're hoping that giving manipulatives and allowing kids to see math in a different way, that they'll be able to transfer over those life skills."
Both Habeck and Cline said funding for new projects and initiatives can be challenging for the district. There are times when teachers start such projects and initiatives by using their own money.
"Being able to get manipulatives in the hands of teachers without having them to have to dig into their pockets is amazingly gracious and generous of you guys (CWEC)," Cline said.
The materials that were purchased with the grant funds will be able to be used for multiple school years.
"Grade bands will be able to check them out and use them," Haback said. "But in addition, all of the materials, the teachers will have them in their classrooms with them and they can use them, even if it's as simple as standing in line and working through some problems while we're waiting. Using all those little bits of time will really help, I think, with math understanding."
Cline added, "If we're spending the time right now helping our teachers implement new ideas, they have that for future years."
Haback said the project is being done in collaboration with the district's math interventionist Elizabeth MacDonald.
"She and I are always bouncing ideas off of each other and I just really appreciate the team mentality in the district and so many of our teachers who are willing to come in and go through the training and work on creating these manipulatives and are willing to use the math boxes in the future," Haback said. "It really shows that Rosholt is really all hands-on deck, and I really appreciate the collaboration with the co-op."
BOWLER SCHOOL DISTRICT
The Bowler School District received two STEAM grants, for the total of $1,000.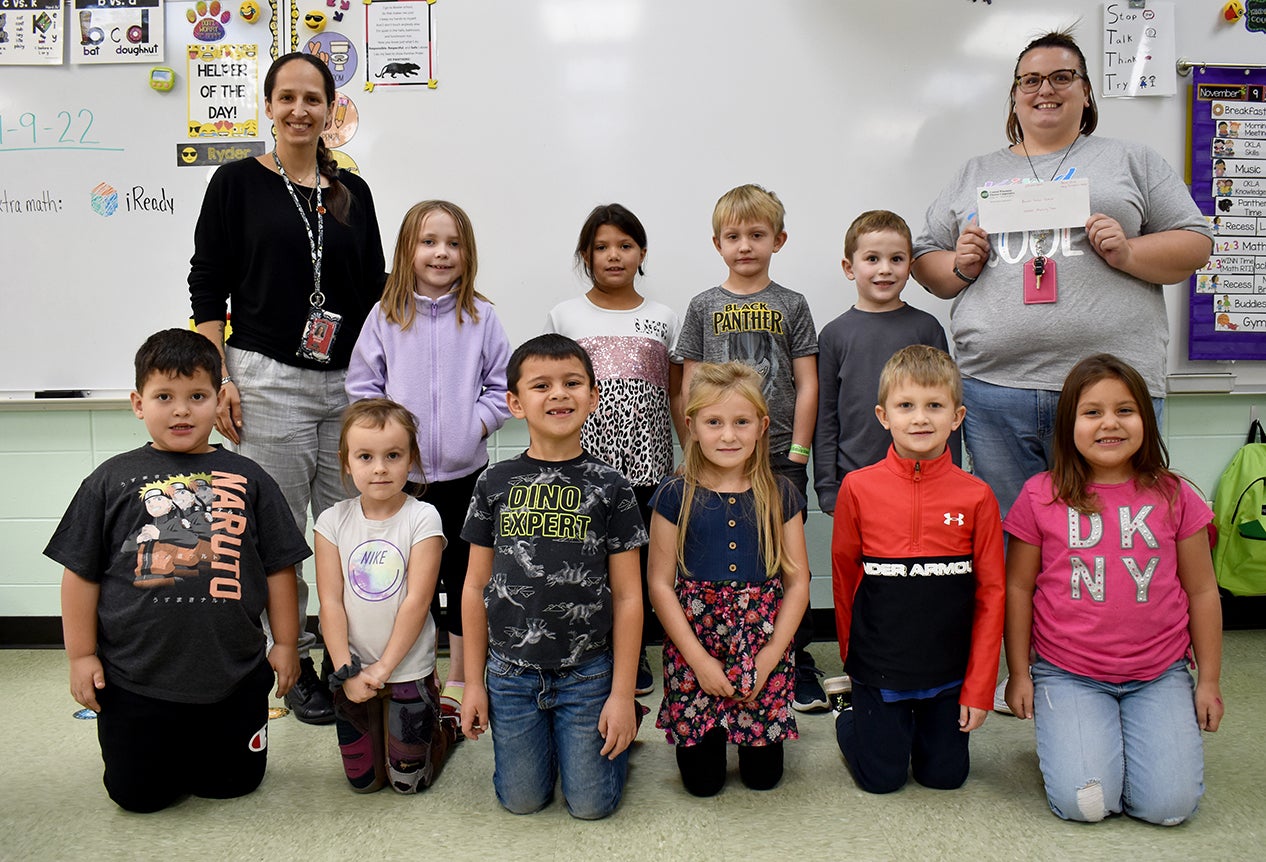 Morning Tubs – The first-grade class taught by Amy Firnstahl at Bowler Elementary School received $448.16 to purchase materials needed to build STEAM Morning Tubs. According to Firnstahl, the morning tubs will provide her first-grade students the opportunity to explore, while practicing STEAM principles.
"It's giving students an opportunity to explore and create with different materials, so building things, creating and using their imagination," Firnstahl said. "Just giving them something extra to do besides an ordinary morning worksheet."
Firnstahl added that receiving the STEAM grant was important for the project to move forward.
"With technology today, a lot of times imagination falls to the wayside, so using their imagination, their building skills, teamwork, it will have a lot of skills built into it," she said.
The morning tubs would be introduced slowly to the students, Firnstahl said.
"Maybe by March we can have all of them out and they can independently grab what they like," Firnstahl added.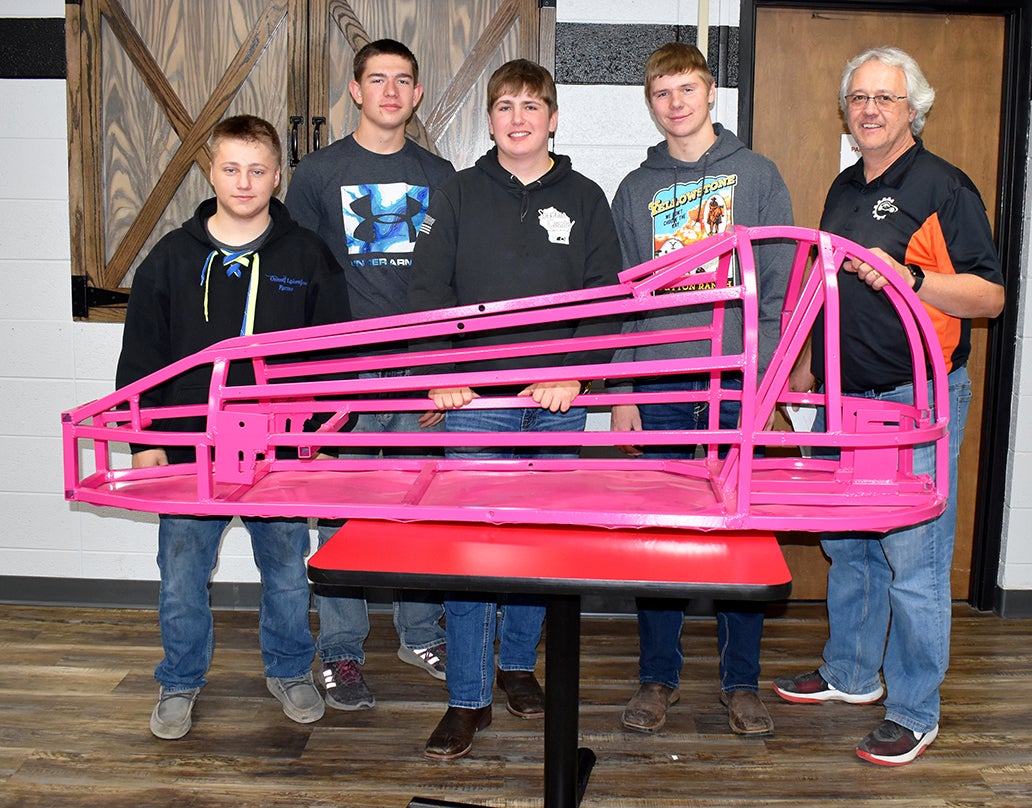 Super-Mileage Vehicle – The district also received $551.84 for a super-mileage vehicle project. The project is a student activity that provides various educational venues in and outside the classroom, said project supervisor Timothy Ploeger. The project has students designing, fabricating, and testing a small one-person vehicle with a focus on high mileage during various challenge events around Wisconsin.
The challenge events are part of Challenge USA, which began in the early 2000s. Ploeger estimated that 25-30 schools currently participate in the events, and that number is growing.
Ploeger said the project is funded by soliciting sponsorships from area businesses, so receiving the STEAM grant is appreciated.
"It will really help us out a lot. We can maybe get some new engines or batteries that need to be replaced, so that will go a long-ways towards that," Ploeger said.
There are currently 18 students involved in the project this year. They are building four vehicles.
"We started as a club back when we first started it," Ploeger said. "It was an afterschool thing. Some of those nights we'd be here pretty close to midnight. Now it's a class we're trying to develop as we go. We design, we do the engineer's design which is the process where we develop a prototype and build a car out of PVC so we can see any errors before we get to metal."
Ploeger said the most useful skill students will learn from the project is problem-solving.
"No matter what career a person goes into they will have to problem-solve," Ploeger said. "In the course of this project, there will be loads of problem-solving and with that the frustration of things not working out as planned. The students will learn to plan, learn from their mistakes, and make improvements to the vehicle. After the last event students will learn to reflect and determine what went well and where improvements could be made."
TIGERTON SCHOOL DISTRICT
The Tigerton School District received $1,000 for the construction of an energy bike. The energy bike, which will consist of a pedal bike to power a generator, will provide students in the district a concrete example of how electricity is produced.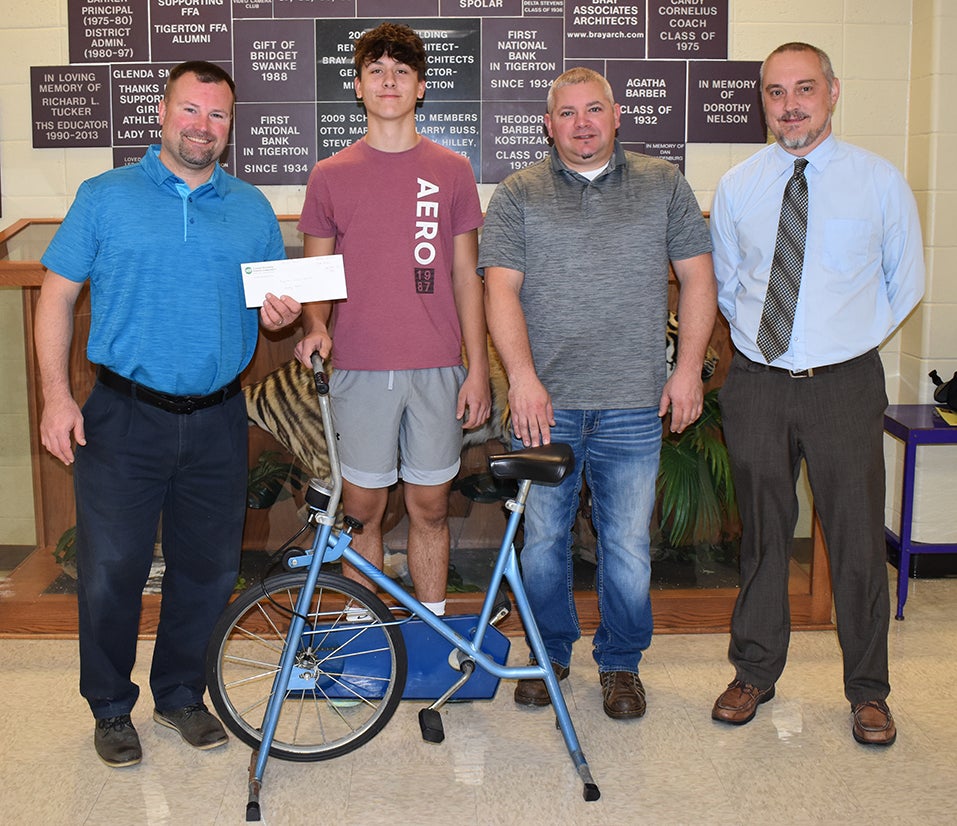 Chad Pritzl, high school science teacher at Tigerton High School who is also overseeing the energy bike project, said he originally got the idea for the energy bike while he worked for a different school district.
"We brought it to school as a demonstration and I thought it was a really neat experience for the students to see the work required to produce electricity," Pritzl said. "That connection is lost I think. And this really brings it home."
To complete the project, Pritzl said a variety of things will need to be purchased, such as a generator, so the STEAM grant will help pay for those costs.
In addition to learning about how electricity is generated, Pritzl said students will also learn about energy efficiency and energy storage in batteries.
Pritzl said he will use his science background and team with Tim Schmidt, who teaches Tech. Ed. at Tigerton High School, to complete the project with students.
"Hopefully we can have a few students lead with the project and we'll build it right in the classroom," Pritzl said.
Pritzl added that he believes the project will engage some of the students who are reluctant learners in the learning process, especially during the design and fabrication process. It will also provide more advanced learners an opportunity to explore electrical engineering.
WITTENBERG-BIRNAMWOOD SCHOOL DISTRICT
The Wittenberg-Birnamwood School District received $1,000 for an Urban Search and Rescue Robot that will be used by students in Skills USA competitions that are held throughout the state of Wisconsin. District competitions are held at high schools, while regional competitions are held at universities or technical colleges. From state competitions, there is an opportunity to qualify for Nationals.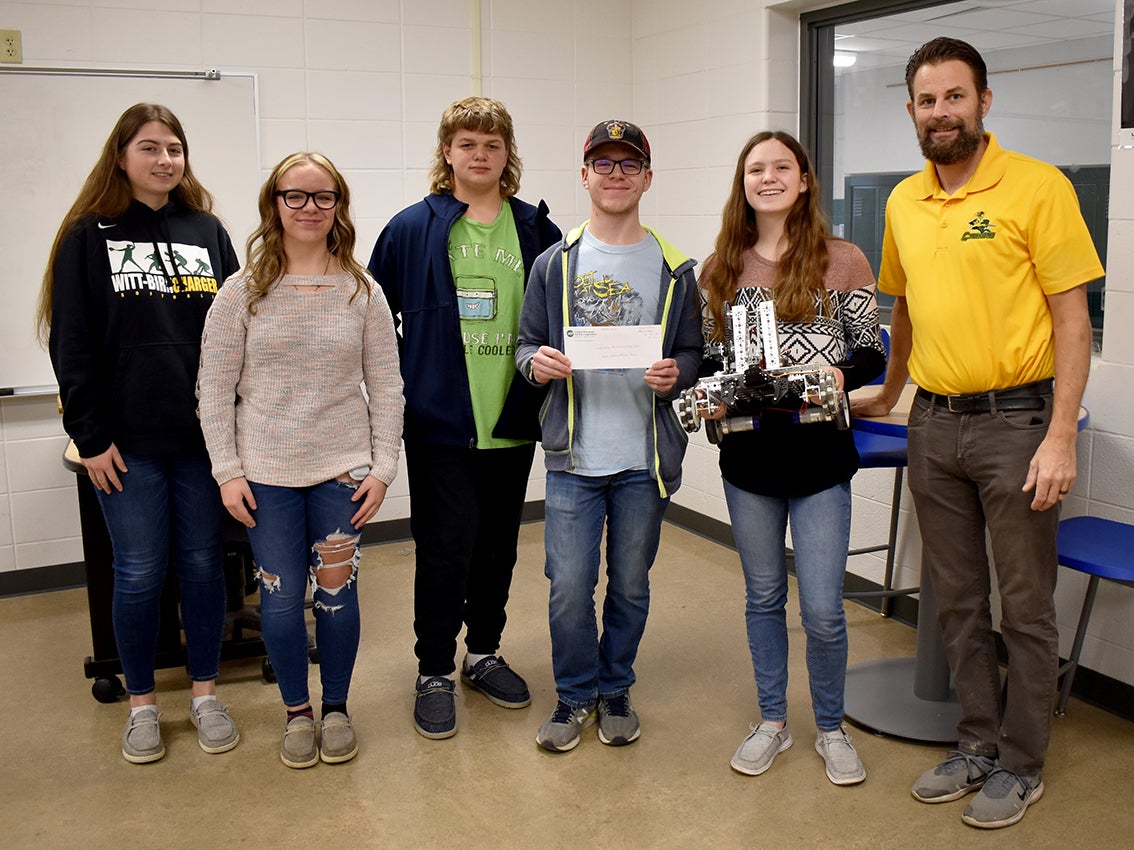 Caleb McPhail, Technology Education and Woodshop teacher at Wittenberg-Birnamwood High School who oversees the students participating in Skills USA, said the robot used in competitions throughout the state will be operated by a student who must perform specific tasks with the robot that are already pre-established.
"There's a course you have to go through, and in this course, you have two mailboxes," said Marli Novy, a student who will be operating the robot in competitions. "In some of the mailboxes there is going to be a cube you pick up with the claw and then put it back in a bucket outside of the course. There's two or three of them. Those have to go inside a house that is built and also go up and down some ramps in a certain amount of time. And there is also a written test to demonstrate your knowledge of different robotic laws and how everything is built."
When driving the robot in competitions, Novy said she will need to drive it without looking at the robot. An iPhone is mounted on the robot, and the robot must be maneuvered by the view provided by the iPhone. 
McPhail said this year is the first year the Wittenberg-Birnamwood School District has competed in the robotic challenge.
"Marli (Novy) saw it last year when we were doing other competitions and she really wanted to get into that," McPhail said.
Novy, a sophomore, said she is interested in engineering.
"This looked like a good opportunity to learn more and be able to create something that actually creates something that's used," Novy said. "And it's something that should help me with whatever I decide to do."
McPhail said all the work done associated with Skills USA events is done during the students' free time, which includes time after school.
"All these different competitions, the things they prep for, we don't have time throughout the day, our normal day periods for them to come in," McPhail said.
McPhail added that primarily two to three students helped build the robot for competition.
"The nice thing about this is we can disassemble it at the end of the year," McPhail said. "It packages all back up and we can start from scratch the following year. So, we can reuse it over multiple years with different students having to go through and basically redesign it."