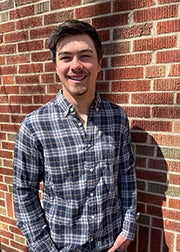 Kyle Groshek, a 2017 graduate of Rosholt High School, has been named the recipient of the 2020 Central Wisconsin Electric Cooperative's (CWEC) $1,000 Electric Utility Worker Scholarship.
CWEC established the scholarship to help address a forecasted shortage of electric utility employees and to encourage students to consider a career in an electric utility.
Groshek's path to pursing an electric utility worker career had a slight detour. Groshek recently received a bachelor's degree for health science pre-physical therapy from UW-Stevens Point. While attending UW-Stevens Point, though, Groshek decided that wasn't the right career path him. 
Groshek said he chose to pursue a career as an electric utility worker after conversations with some friends from high school who are currently in the field. He added that he has worked with electronics since middle school.
"Anything electric I'd take apart," Groshek said.
Groshek, who currently works in the construction field with his dad, who is a general contractor, said he enjoys working with his hands and working outdoors.
"I like the building aspect with power distribution, being able to get power to different places," Groshek said. "And during storm damage, actually being able to make a difference and get power back to people."
The scholarship has been established to assist a student pursuing a post-secondary education in an electric utility program.
Groshek is currently scheduled to attend Northeast Wisconsin Technical College in 2022, but is on the waiting list for the 2021 class if a spot opens up.
After graduation, Groshek said he would like to secure an electrical utility worker position in central Wisconsin.