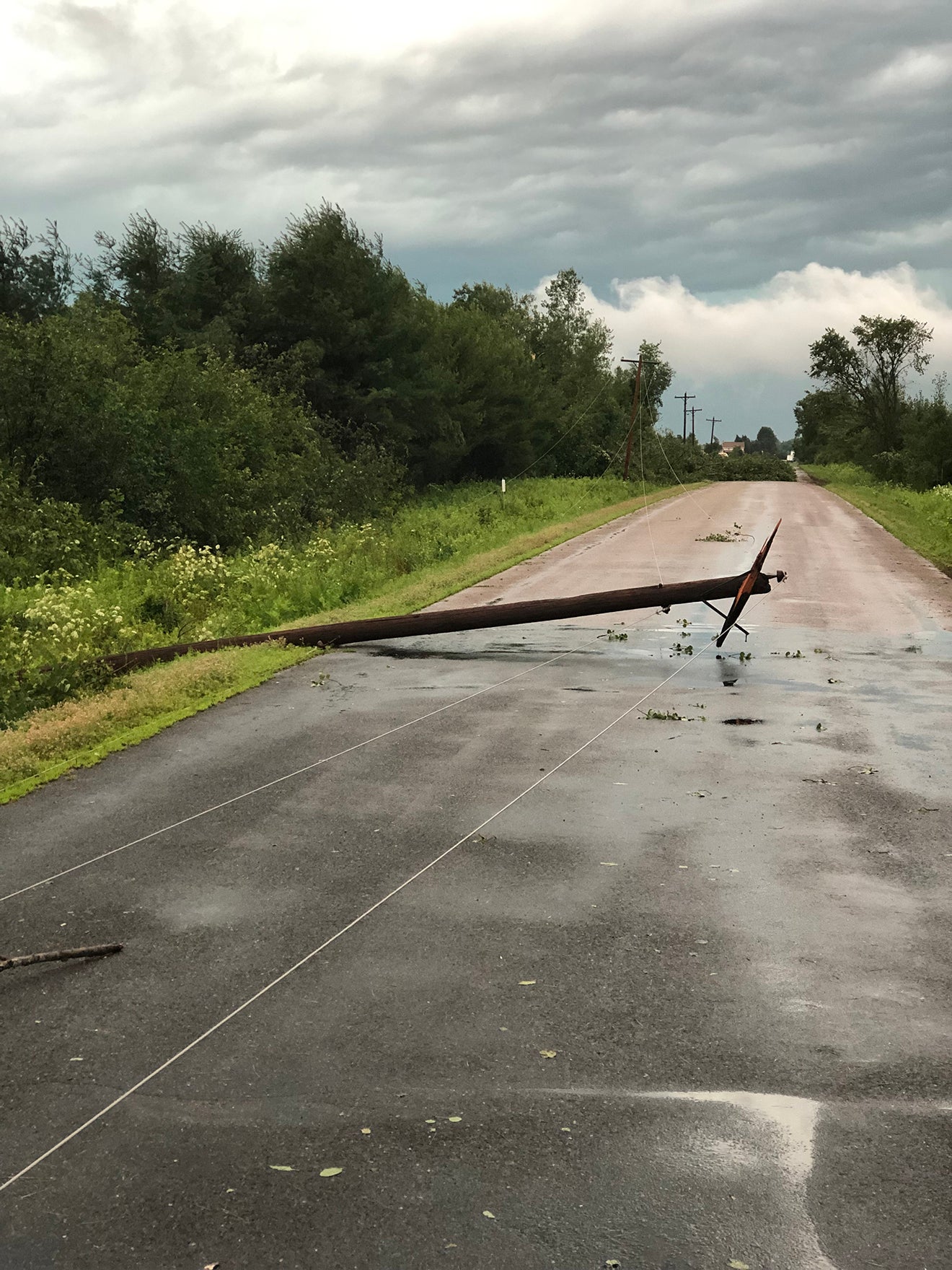 By Maggie Weiss
Two large storms ripped through Wisconsin, July 19 and 20, leaving extensive damage and power outages. Central Wisconsin Electric Cooperative's (CWEC) service area was hit particularly hard causing 6,151, about 78%, of our meters to lose power by Saturday morning.
On Saturday morning CWEC sent out a request for assistance through the ROPE (Restoration of Power in an Emergency) program. Eight cooperatives and contractors sent 40 crew members to help throughout the week.
The process of restoring power was long and strenuous. When an outage comes in, it is impossible to know exactly what the crews will be dealing with until they get to the site. Nothing could have prepared them for the destruction they encountered in a number of our service areas. Linemen dealt with many downed lines, poles, and extensive damage to our substations. Some roads were completely covered with trees. Before the linemen could work on the lines, they had to clear the downed trees and branches that blocked the roads in an effort to make the area safe.
"The hardest part of restoration was clearing up the roads to get to the place that needed to be repaired," explained CWEC's Line Manager Dennis Magee.
When working long hours, it is easy to get fatigued and set safety to the wayside. All of the linemen working during the storm restoration practiced safety even when the hours got long. There were no injuries reported.
"Safety was our number one thing," said CWEC Vice President of Operations Kevin Kurtzweil, "We were lucky that even though the visiting linemen were coming into a system they didn't know, it went smoothly and no one got hurt."
CWEC couldn't have done this alone. We were lucky to have our community, co-ops, and contractors rally around us during our time of need. Co-ops and contractors from around the state and Illinois traveled to help us restore power to our members. CWEC would like to thank Oakdale Electric Cooperative, Richland Electric Cooperative, Jo-Carroll Energy, Adams-Columbia Electric Cooperative, Jump River Electric Cooperative, Scenic Rivers Electric Cooperative, Zielies Tree Service, Inc., and PUSH, Inc. for sending crews and equipment. Thank you to our local restaurants for helping feed the linemen while they were out in the field. Our vendors also, went above and beyond to make sure that our linemen had the tools and supplies they needed. We couldn't have done what we did without your help.  
We would also like to thank our members for their patience, understanding and kindness. Being out of power for long stretches of time is frustrating. We appreciated your kind words and actions. A family in Tigerton generously brought dinner to a crew who was working in their area. Many members also shared encouraging thoughts on our Facebook page.
One member commented, "Our neighborhood regained power this afternoon and I just want to thank all the hardworking people that make that happen from our wonderful employees of the community to the wonderful people that have traveled to help! Your hard work and time is greatly appreciated! Definitely more than words can express the gratitude I feel! Please continue to work safely! Again THANK YOU!!!!".
The comments from members did not go unnoticed.
"This was quite the storm and we suffered a lot of widespread damage to our power lines across our whole system. Everyone in our company and several other co-ops worked around the clock to restore power as quickly as we could. It is always great to see how we can all come together and accomplish a lot in a relatively short amount of time," said CWEC Operations Crew Leader Mack Yarbrough.
After long hours and hard work, the last of the power was restored on Thursday, July 25.
(Below are several photos that show some of the damage the storms caused, as well as photos of linemen in the field working to restore power.)