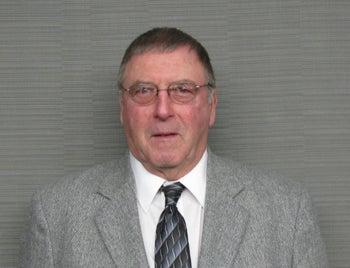 After more than 40 years with Central Wisconsin Electric Cooperative, first as an employee, and then as a board director, Leonard Oppor is retiring from the board.
Prior to becoming a director on the board, Oppor worked for the co-op for 30 years, retiring as a lineman in 2001.
It was his time at the co-op as a lineman that eventually led him to seek election to become a director in 2009.
"I wanted to find out what goes on in the office. I was a lineman and I never got into the office part," Oppor said.
His time spent as a lineman with CWEC proved to be beneficial for himself, as well as other members of the board.
"The rest of the board was asking me questions about things that took place out in the field, and I could answer them," Oppor said.
It was also Oppor's time as a lineman that helped form his goals for his time as a director on the board. He knew what linemen endured out in the field and he wanted to make sure they had equipment needed to do the job efficiently.
"I wanted to push for a new bucket truck," Oppor said about one of the first items of equipment he pushed for. "We had an old one we were using."
When Oppor was first elected to the board, the CWEC headquarters was located in Iola. Moving the headquarters to a new building in Rosholt was cited by Oppor as one of the accomplishments he is proud of when looking back at his time on the board.
"That was one of our accomplishments as a board, not just mine," Oppor added.
Even though Oppor said he didn't enjoy the traveling aspect of it, he did enjoy attending meetings throughout the country.
"We'd get to visit with other board members and bring that information back to our board," he said. "I thought that was pretty interesting."
Oppor said he made a lot of friends during his time as a director, but part of his decision to not seek reelection was an effort to get "new blood" on the board. He added that more people should try being on the board.
"New ideas don't hurt," he said.
Spending more time with his family is one of the things Oppor said he is looking forward to in retirement.