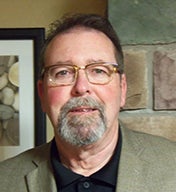 When Lou Oppor was announced as the winner of the District 2 election during Central Wisconsin Electric Cooperative's Annual Meeting April 27, he said he was thrilled.
"I hadn't been living up here that long, so I wasn't sure how many people knew me," Oppor said. "The fact that they had enough confidence in me to vote me in, I was just thrilled that that happened."
Originally from the area, Oppor has a long history in health services. He spent around six years as a certified alcohol and other drug abuse counselor in Waupaca County before becoming a contract administrator for human services in Calumet County for six years. He then moved to the Madison area and worked for the state of Wisconsin in health services and was the section chief of the substance abuse services section in the health services department. In that position, Oppor was responsible for managing around $75 million a year in alcohol and other drub abuse and health services around the state.
After retiring in 2015, Oppor moved to Scandinavia, where he currently resides.
It is Oppor's past work experience that he said prompted him to seek becoming a director on the CWEC Board of Directors.
"I had been a part of their (CWEC) Advisory Committee for about three years and I found the co-op to be very interesting in terms of how they operate," Oppor said. "Plus, I felt that my experience as an administrator at the state level could benefit the co-op in terms of being a director and using some of those administrative skills to be a part of the leadership of the co-op."
After participating in his first CWEC board meeting on April 29, Oppor said there is a lot to learn.
"It's going to be a learning curve for a bit," Oppor said. "I'm excited to work for the board. It's a great bunch of board members. They're helping me along. They've been great in terms of welcoming me."
He said he plans to take advantage of every opportunity available to him to learn about the co-op.
"It seems as though I'm in communication with either staff at the co-op or other directors fairly regularly outside of board meetings," Oppor said.
He added that he is looking forward to the challenge, and is excited to be part of the CWEC board.
"I used to manage a lot of budgets, so I'll be interested to take a look at the budgets for the operation, and whether there are ways to do streamlining or improvements. I'm looking forward to some of the fiscal management part," Oppor said.
Welcome to the board, Lou.